Photo by designani
Love: the
Finders Keepers
market!
Melbourne's art and craft community (and beyond) were buzzing over the Finders Keepers market this weekend. I went there on Saturday, and had SO much fun. I met some wonderful people, browsed through dozens of beautiful stalls, and of course I bought a lot of beautiful goodies too! Unfortunately I was too busy shopping and totally forgot to take photos :( Luckily, a number of other Melbourne bloggers
did
take terrific photos for you to see, such as
designani
(who took the above photo),
handmadelove
,
meet me at mikes
, and
bee & see creative
. They have lovely blogs too, so do check them out! If anyone else has blogged about the market, let me know in the comments :)
What are
you
loving?
To join in Much Love Monday, simply do a blog post that includes
a picture of a heart and mention something you love.
Then
leave a link
of your blog post in the space below, by clicking on the "Add your link" button. If for any reason you can't add your link, please put it in the comments instead.
I'd really appreciate it if you do link back,
either by a text link or simply grab this button: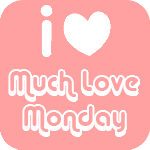 Please note and respect: this space is for Much Love Monday blog posts ONLY, not a promotional space. If I notice that your link has nothing to do with Much Love Monday (unfortunately this has happened from time to time), I will have to delete the link.
You can also add your Much Love Monday photos to
the Much Love Monday Flickr pool.