Love: the Smurfs!
After briefly mentioning them in my last post, I thought the Smurfs deserve a Much Love Monday post dedicated to them. Possibly anyone who spent their childhood in Indonesia in the '90s (and beyond) read and adored these translated comic books. Sure, they're well known around the globe, but they were
really
popular to us, along with all the other awesome European comic books (Asterix, Tintin, Lucky Luke, the list goes on). So when my childhood best friend sent me a couple of them for my birthday last week, it brought back the best memories. Those Smurfs are a bunch of charming little fellas, I tell ya.
What are
you
loving?
To join in Much Love Monday, simply do a blog post that includes
a picture of a heart and mention something you love.
Then
leave a link
of your blog post in the space below, by clicking on the "Add your link" button. If for any reason you can't add your link, please put it in the comments instead.
I'd really appreciate it if you do link back,
either by a text link or simply grab this button: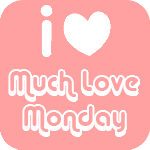 Please note and respect: this space is for Much Love Monday blog posts ONLY, not a promotional space. If I notice that your link has nothing to do with Much Love Monday (unfortunately this has happened from time to time), I will have to delete the link.
You can also add your Much Love Monday photos to
the Much Love Monday Flickr pool.