Link loves:
♥ do good and click on
The Hunger Site
button
♥
Florench Welch sings my favourite Little Mermaid song
♥
cute stop motion video
by Jess
♥ only just discovered the sweet sounds of
Rachael Yamagata
♥
Roland Garros 2011
has started! Who do you think will win?
♥ have been going to
Oh, the Places You'll Go! by Dr. Seuss
when I'm in a slump. Words of wisdom for all ages.
What are
you
loving?
To join in Much Love Monday, simply do a blog post that includes
a picture of a heart and mention something you love.
Then
leave a link
of your blog post in the space below, by clicking on the "Add your link" button. If for any reason you can't add your link, please put it in the comments instead.
I'd really appreciate it if you do link back,
either by a text link or simply grab this button: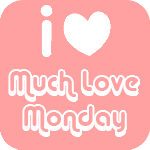 Please note and respect: this space is for Much Love Monday blog posts ONLY, not a promotional space. If I notice that your link has nothing to do with Much Love Monday (unfortunately this has happened from time to time), I will have to delete the link.
You can also add your Much Love Monday photos to
the Much Love Monday Flickr pool.