Love love love: my vintage Strawberry Fields cardigan from the awesome
Beta Boutique
. I've been meaning to do a proper outfit post with this for ages, but I still haven't managed to get around to it yet. So this will have to do for now. The little v-shaped stitches look like love hearts, no?
FYI, Beta has started her own
Beta Boutique blog
, where she shares valuable tips on finding and treating good vintage clothing, as well as inspirational outfit posts, special offers, sneak peaks and daily happenings of
Beta Boutique
.
What are
you
loving?
To join in Much Love Monday, simply do a blog post that includes
a picture of a heart and mention something you love.
Then
leave a link
of your blog post in the space below, by clicking on the "Add your link" button. If for any reason you can't add your link, please put it in the comments instead.
I'd really appreciate it if you do link back,
either by a text link or simply grab this button: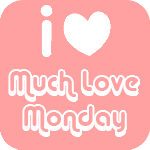 Please note and respect: this space is for Much Love Monday blog posts ONLY, not a promotional space. If I notice that your link has nothing to do with Much Love Monday (unfortunately this has happened from time to time), I will have to delete the link.
You can also add your Much Love Monday photos to
the Much Love Monday Flickr pool.