love: Comfortable international flights (Garuda Indonesia, you are so good!!). Being home. Not having to worry about grown-up responsibilities for a week. Breaking fast with my parents. Finding awesome clothes from my mum's wardrobe that she let me keep (it's like shopping, but without the spending bit. Brilliant!). Buying/getting stuff done for a tiny fraction of what they would cost in Australia. Being fascinated by people and culture. Getting my hair cut. Warm weather. Wearing pretty house dresses all day. Catching up with my childhood best friends today. People's joy and kindness during the holidays.
.... all that, and I've only been here for less than 2 days. Still have a whole week to enjoy! Now this is what I call an August Break. Loving it.
What are
you
loving?
Much Love Monday is a weekly blog post series, intended to start off each week with some positivity instead of the typical Monday blues!
To join in Much Love Monday, simply do a blog post that includes a picture of a heart and mention something you love. Then leave a link of your blog post in the space below, by clicking on the "Add your link" button. If for any reason you can't add your link, please put it in the comments instead.
I'd really appreciate it if you do link back,
either by a text link or simply grab this button: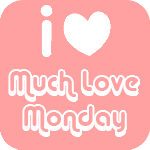 Please note and respect: this space is for Much Love Monday blog posts ONLY, not a promotional space. If I notice that your link has nothing to do with Much Love Monday (unfortunately this has happened from time to time), I will have to delete the link.
You can also add your Much Love Monday photos to
the Much Love Monday Flickr pool.