love: being spoilt on my birthday last Friday. During the day, my work buddies surprised me with cake and flowers and a big bag of gifts (very cute stationery!! what's pictured isn't even half it!). Later in the evening I had a lovely birthday dinner with a big bunch of my favourite people. It was a bit different and bigger than my usual birthdays which are usually much more low key. We had yummy Afghan food, my ice cream dessert came out with a sparkler on it, and I was spoilt with too many presents to carry home in one go. I'm the kind of person who appreciates even the smallest acts of kindness, so being showered by attention and love that night was overwhelmingly NICE. Birthday celebrations are cool. It makes the whole getting old bit not feel so bad.
so what are
you
loving?
Much Love Monday is a weekly blog post series, intended to start off each week with some positivity instead of the typical Monday blues!
To join in Much Love Monday, simply do a blog post that includes a picture of a heart and mention something you love. Then leave a link of your blog post in the space below, by clicking on the "Add your link" button. If for any reason you can't add your link, please put it in the comments instead.
I'd really appreciate it if you do link back,
either by a text link or simply grab this button: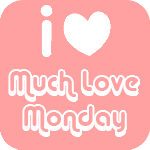 Please note and respect: this space is for Much Love Monday blog posts ONLY, not a promotional space. If I notice that your link has nothing to do with Much Love Monday, I will delete the link.
You can also add your Much Love Monday photos to
the Much Love Monday Flickr pool.