love: a positive pep talk to start off the week!
50 ways to say you're awesome
Y is for yes
letters to a young woman
29 ways to stay creative
Here's to a fantabulous week lovelies! I'm excited that starting Thursday I'll be taking up the challenge of
do something different every day
in March. Anyone else wanna
join
us? :)
so what are
you
loving?
Much Love Monday is a weekly blog post series, intended to start off each week with some positivity instead of the typical Monday blues!
To join in Much Love Monday, simply do a blog post that includes a picture of a heart and mention something you love. Then leave a link of your blog post in the space below, by clicking on the "Add your link" button. If for any reason you can't add your link, please put it in the comments instead.
I'd really appreciate it if you do link back,
either by a text link or simply grab this button: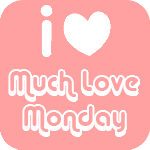 Please note and respect: this space is for Much Love Monday blog posts ONLY, not a promotional space. If I notice that your link has nothing to do with Much Love Monday, I will delete the link.
You can also add your Much Love Monday photos to
the Much Love Monday Flickr pool.