love: Much Love Monday.
I have decided to end Much Love Monday... at least for now. Since starting this series in 2010 (or earlier, just in a different format), I don't think I missed a single Monday where I didn't post a love heart and shared something I love, and I have LOVED seeing how others have participated in it with me. It's just come to a point where doing these posts have gone from being fun to becoming like a repetitive chore, sometimes forced, it's become harder to constantly find that positivity, and it's starting to get boring... and I'm sure some of you think so too as the number of participants have dwindled over time. So basically, it's time for an ending and time for a change.
I've honestly enjoyed doing Much Love Mondays, even on those days when Mondays are sucky (let's face it, it happens, but even bad days have something nice in them if you look hard), and it always makes me ridiculously happy whenever I get a comment or email from a reader saying that my Much Love Monday post is something they are inspired by and look forward to. So I encourage any of you who wish to continue YOUR Much Love Monday posts to please to do so. I'm not putting it to a complete end. I will likely still post a Much Love Monday every now and then. I won't make any promises on how often, and it might not be in this exact format, but it will simply be when I feel like it.
Thank you to everyone who has brightened my Mondays with your posts too. xx
Anyway, that being said... what are you loving? :)
Much Love Monday is a weekly blog post series, intended to start off each week with some positivity instead of the typical Monday blues!
To join in Much Love Monday, simply do a blog post that includes a picture of a heart and mention something you love. Then leave a link of your blog post in the space below, by clicking on the "Add your link" button. If for any reason you can't add your link, please put it in the comments instead.
I'd really appreciate it if you do link back,
either by a text link or simply grab this button: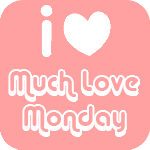 Please note and respect: this space is for Much Love Monday blog posts ONLY, not a promotional space. If I notice that your link has nothing to do with Much Love Monday, I will delete the link.
You can also add your Much Love Monday photos to
the Much Love Monday Flickr pool.